Wind power can be an excellent complement to a solar power system. Here in Colorado, when the sun isn't shining, the wind is usually blowing. Wind power is especially helpful here in the winter to capture both the ferocious and gentle mountain winds during the times of least sunlight and highest power use. In most locations (including here) wind is not suitable as the ONLY source of power--it simply fills in the gaps left by solar power quite nicely.
OPTIONS FOR GETTING STARTED IN WIND POWER
Build your own!
Building a wind generator from scratch is not THAT difficult of a project. You will need a shop with basic power and hand tools, and some degree of dedication. Large wind generators of 2000 Watts and up are a major project needing very strong construction, but smaller ones in the 700-1000 Watt, 8-11 foot range can be built fairly easily! In fact, we highly recommend that you tackle a smaller wind turbine before even thinking about building a large one. You'll need to be able to cut and weld steel, and a metal lathe can be handy (though you could hire a machine shop that turns brake rotors do do some small steps for you).
In most locations, GENTLE winds (5-15 mph) are the most common, and strong winds are much more rare. As you'll see by examining our latest machines, our philosophy about designing wind turbines is to make large, sturdy machines that produce good power in low wind speeds, and are able to survive high wind events while still producing maximum power. The power available in the wind goes up by a factor of 8 as the windspeed doubles.
Other critical factors are rotor size and tower height. The power a wind turbine can harvest goes up by at least a factor of 4 as you double the rotor size. And making a tower higher gets you above turbulence for better performance and greatly increased power output. Putting a wind turbine on a short tower is like mounting solar panels in the shade!
Before you jump into building your own wind turbine or buying a commercial one, do your homework! There are certain things that work and certain things that don't, and you can save hours and dollars by learning from other people's successes and mistakes. Some recommended reading:

---
Wind Turbine Seminars and Renewable Energy Fairs
There's nothing better than 'hands-on' experience when you tackle the big project of building your first wind turbine and tower. We (and others) do offer in-depth, hands-on seminars at various locations around the world. We also offer hands-on seminars at our wind turbine shop in Colorado, and we can travel to your location. We can also provide seminars ranging from one to eight hours for larger groups, covering every aspect of building a turbine using slideshow presentations and a big box of wind turbine parts.
Contact us
for more information.
---
UPCOMING WIND ENERGY SEMINARS
---
Past wind turbine construction seminars
---
---
Wind Turbine Parts and Kits
We offer for sale a large variety of the 'stuff' you need to build your own wind turbine.
It's all available at our
Online Store
.
Complete wind turbine kits
Welded metal frame kits
Flat metal parts kits (you weld it together)
Pre-wired and cast stators for 12, 24 and 48v systems
Carved wind turbine blades
Magnets
Magnet wire
Rectifiers
Stainless steel hardware
And more!
---
Wind Turbine Design and Construction Articles:
---
Here's a roundup of all of Otherpower.com's homebrew wind turbines. The individual web pages give construction and performance details. We've changed many things in our designs over the past few years, so if you are reading an older page, be sure to check out what we've been doing recently before you start the project. Projects that are actively being used, improved and worked on are flagged with an Active Project tag. Older, inactive projects do NOT have the 'active' tag, and their pages have a warning that we don't build turbines that way anymore. If you ask us questions about how to build these ancient designs--sorry, we'll just refer you to how we build them NOW. Enjoy!
---

Wind Turbine Evolution
This page gives a complete history of our wind turbine projects over the last few years. It explains how and why our designs have changed, and why we no longer pursue many of the older ones. A very fun read. You can see what we came up with years ago, back when we had no idea what we were doing!


Our latest 10 foot wind turbine
Active Project
This turbine is the latest evolution of our dual magnet rotor designs. Most of the parts on this machine are fabricated, we're not using brake rotors or any salvaged parts here. This page is the entry way to several pages which will go over it's construction in detail. It makes for a good 10' diameter, quiet, nice looking wind turbine. This is the machine for which we sell all the parts and kits (above).

Large 17 foot diameter wind turbine project (02/2008)
Active Project
This new machine is an updated and improved model of our older 17 foot design, below. It's good for an honest 3kw, and peaks of nearly twice that. This page also includes a lot of excellent detail about the large, sturdy tower needed for a turbine this big and powerful.

Large 20 foot diameter wind turbine project. (07/2006)
Active Project
This is good for nearly twice the power in lower winds as our older 17' machine. We attribute this to more swept area, a higher tower, and a better location. This wind turbine is good for about 5KW in higher wind. The page about it also includes a lot of detail about the tower.

Tim's 10 foot wind turbine
Active Project
This turbine is among the last of the brake disk machines we made. We have built and flown nearly 20 of these turbines. This page details some of the improvements over older machines. Over 1kW peak output, and starts up in very low winds. These machines have been performing quietly and reliably, with excellent power output.

A small 7' 300 Watt wind turbine
Active Project
This page is about a cute little 7' machine that uses most of the same parts and is really the 'little sister' to the 10' machine described in detail to the left.

17 foot diameter, 3+ kW, 48V turbine (3/2005)
This is an older page, and we've since completely re-designed the turbine. But it's still a good read!

Rocky Mountain Sustainable Living Fair 2004 Wind Turbine
This one is a 10-footer just like Tim's wind turbine, and is identical in most respects. However we built it in just one weekend at the 2004 Rocky Mountain Sustainable Living Fair, with the help of students who signed up for our seminar. None of them had ever built a wind turbine before, so this page also shows easy it can be!

5-10-2004 -- The Wind Farm -- some 10-foot diameter homebrew wind turbines.
Our whole community is off-grid, and we've been assisting neighbors in the design and construction of our brake disc axial turbines. Somehow the project became the 'Wind Farm' and there are now turbines flying in the area sporting a whale, a rooster, and a pig for tail vanes. We get valuable testing information out of the deal, and our neighbors get power. This is an older page, we don't build turbines this way any more.

05/10/2004 -- Building and testing some BIG wind turbines.
This one has a 14-foot dia. rotor. 2 More similar to it are under construction.Larger rotors mean a turbine can capture power out of lower wind speeds. This one starts making power at 6 mph, hits 200 watts at 10 mph, and makes over 1000 watts at 22 mph, when it starts furling to protect itself. This is an older page, we don't build turbines this way any more.

Homebrew dynomometer testing rig for wind turbine alternator
Active Project
We've tested alternators before by spinning them in the lathe, but it wasn't powerful enough to get much power out. Out at Hugh Piggott's 2004 Wind Turbine seminar, we all tested Hugh's new 12-foot design by spinning it with an engine. Details are here for how we did it with two of our alternator designs, and the data we got. The scale is in there so we could derive foot-pounds of torque and calculate efficiency. A great idea from Hugh Piggott!

10/10/2003 -- The Triplets -- 3 new 10-foot diameter dual-rotor brake disc wind turbines!
These 3 nearly identical machines are built with the same design as the mill at the Caboose (5/20/03, below) but we streamlined the construction process significantly and built 3 machines at the same time -- Curly, Moe and Larry. These are the latest of our designs, and they perform great in low winds. Detailed DanCAD drawings and dimensions on this page. This is an older page, we don't build turbines this way any more.

5/10/2003 -- New Brake Disc Mill
9-foot dia prop, furling tail, 3-phase, separate laminate assembly with excellent specs. Many improvements over our previous designs! Spins up and makes power freely in low winds, and governs itself in high winds. Very old page...we don't build them this way anymore.

5/20/2003 -- Dual Rotor Brake Disc Mill
Up and flying at the Caboose. Excellent low wind performance with 10 foot prop, great furling system. Very old page...we don't build them this way anymore.

The Wood 103
A 100-watt windmill built entirely from wood! More of a demonstration than anything, but a quick weekend project that will teach you about windmill construction.

The Wood A-X
A quick-and-easy 200 watt windmill, built mostly from wood! Very old page...we don't build them this way anymore.

DanF's Wood A-X
DanF's version of the Wood A-X is very similar to the original, but with slightly sturdier contruction. Very old page...we don't build them this way anymore.

Ward's Prop Gallery
Ward and his collection of broken props, tails and stators. This is what happens when you let DanB and DanF use you for a wind guinea pig! But Ward's tower has the best height and wind exposure in the area, so it's where we try and make windmills blow up to further our research. And he's a good sport! Very old page...we don't build them this way anymore.

400-watt Volvo Windmill
One of our older designs with no furling system. Very old page...we don't build them this way anymore.

400-watt Volvo Windmill
Again based on a Volvo brake disc, this one has a 3-bladed prop that is slightly smaller than Ward's mill. It's an ongoing experiment too...a new stator is in the works. One of our older deisgns with no furling system. Very old page...we don't build them this way anymore.

Building Towers for Wind Turbines
Details, diagrams and photos of many different ways to construct tilt-up towers -- ranging from the extremely solid and sturdy to the quick and dirty, field-expedient versions!

Designing, Building and Flying a Wind Turbine
Just our collection of information on all phases of the process! If you are new at wind power, it might help explain some confusing aspects of this 'black art.'

Induction Motor Conversion Mill
Built using an AC induction motor converted to a permanent-magnet alternator. We've since found that from-scratch PMAs are more efficient than conversions.

Small Science Fair Windmill
With a small computer fan blade as a rotor, this little mill makes a great science fair project. The frame is made of PVC pipe, and nothing is to big or fast to be very dangerous. It will light a small bulb using a box fan for power.
---
A high-tech test rig for our high-tech wind generators! Otherpower.com's trusty Model A Ford windmill tester.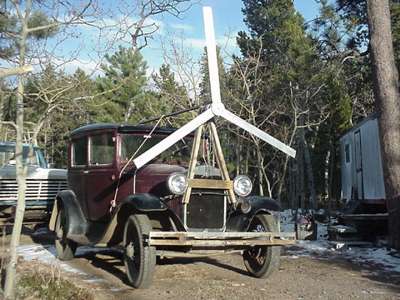 Click on the image to see a 15-second MPEG video of the Model A wind test experiment
Find an antique
If you find an old windmill for sale, first make sure it's intended for generating electricity instead of just pumping water. One common old windmill that's often found for sale used is the
Wincharger.
The other popular wind generator of the era was the
Jacobs
. These were of higher quality than Winchargers--but many of both are still flying today. Several people around the U.S. restore, service and stock parts for old windmills. And the Jacobs is still being made today! The current production models are very large and expensive, with over 10 kW output--they are magnificently designed and built. Check out the
Manufacturer's Website
for more information and cool pictures.
Electricity producing wind generators were very popular in the 1920s and 1930s all over rural America. They were available in many different sizes and voltages, and can often be found for sale in rural farm communities. Most models are quite suitable for a modern remote power system no matter what voltage they are. If you are able to locate an old wind generator, some basic maintenance (rust removal, lubrication, and testing) could put it back in working order quickly. They were built to last--before Rural Electricifation, they were the ONLY source of power for many rural farms and ranches. Backwoods Home Magazine published an excellent article in 2001 about finding and restoring old wind generators.
Buy a commercial wind generator
Suitable only if you have more money available than time. Prices range from $500 to $5000 for small-scale wind turbines ranging from 300w up to 5 Kw. Your wind generator retailer should provide you with LOTS of information regarding many issues if you choose to purchase a wind generator! Since you will be spending lots of money, it might be wise to survey your site with a logging anemometer before making a commitment. The
Small Wind mailing list
is a good place to ask questions about commercial wind generators, and
Mike Klemen's Wind Generator Page
has lots of performance data on a variety of commercial wind turbines that he has flying.
Detronics.net
also posts wind turbine test data and monthly numbers on their site. Or contact the wind turbine manufacturer directly and have them point you toward a retailer nearby.
Be sure to read our article The Bottom Line About Wind Turbines before purchasing a wind turbine! It'll inform you on what to expect for power output depending on the machine's size. There are (unfortunately) many scams out there involving small wind turbines (especially the 'rooftop' variety), and this article has a good section by wind power expert Paul Gipe on detecting and avoiding wind turbine scams.
Otherpower.com's Wind Turbine User's Manual is also essential reading--it will fill you in on all the many things you'll have to do AFTER you obtain a wind turbine, to get it up and flying.
---
Commercial Wind Generator Manufacturers
| Bergey Windpower Company (USA) | | Southwest Wind Power (USA) | | Jacobs (WTIC) (USA) |
| WindMission of Denmark (DK) | | Marlec (UK) | | Proven (UK) | | Flowtrack (AUS) | African Wind Power | Aeromax | AeroStar |