Trip to Vanua Balavu
Part 1; Getting there is half the fun!
I signed up to go with Ben Berry who I knew from Otherpower.com and Smallsolar.org to go on a charity mission to Vanua Balavu Fiji. Vanua Balavu is the largest island in the Lau Group. It has a population of about 1200 people. There is no power station on the island except for a few generators. The mission was to repair and upgrade a Computer Lab at the Adi Maopa Junior Secondary School, the only secondary school on the island of about 1200. The school has a generator, which is only run for a few hours in the evening to provide light for the teachers residences near the school. At one time the school was connected to the generator, but the wiring was damaged when additional windows were installed for ventilation and the school has been disconnected from the generator. Since there is no mains power, the power for the lab has to be generated on site.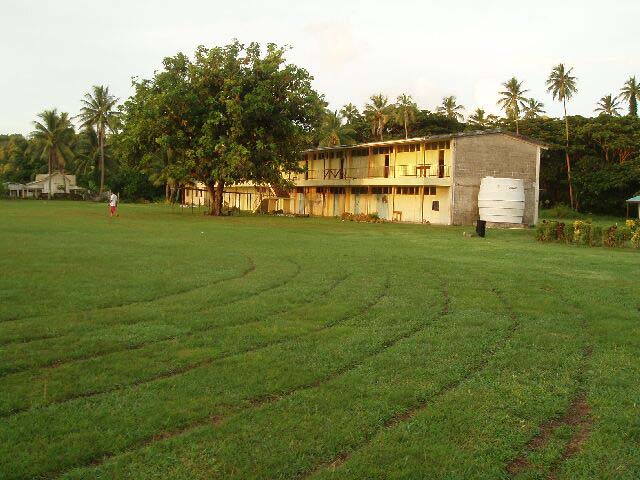 Adi Maopa Primary and Secondary School in a photo by Ben Berry from 2006.
I gathered supplies to bring, including two 20 Watt solar panels and 5 solar panels of about 10 Watts each. I also gathered some 12 volt lights and some electronic parts and supplies to build 12V fluorescent inverters utilizing the workshop that Ben had set up at the school the previous year.

The approximately ten Watt Panels for Fiji. None got broken on the trip.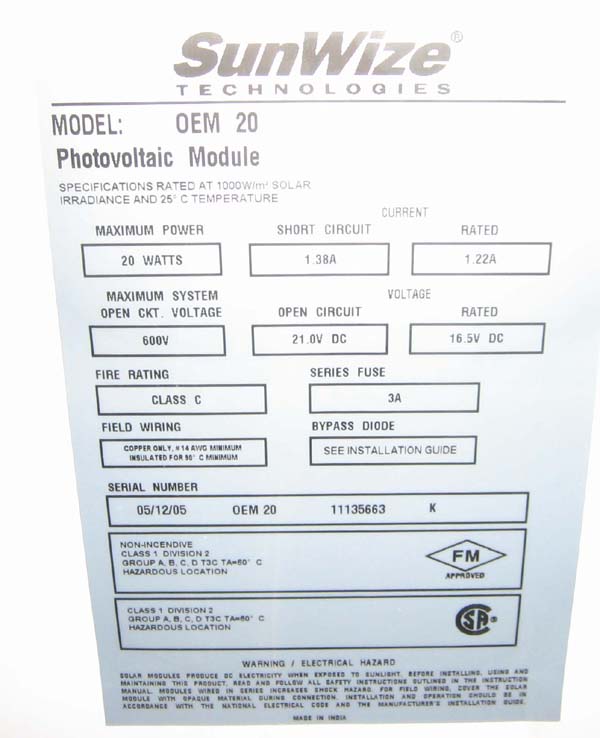 I ordered three of these panels for the trip. This particular panel arrived broken, but its two twins made the trip. I did receive a replacement panel with no fuss from Affordable Solar from which it had been purchased, but that panel did not make the trip.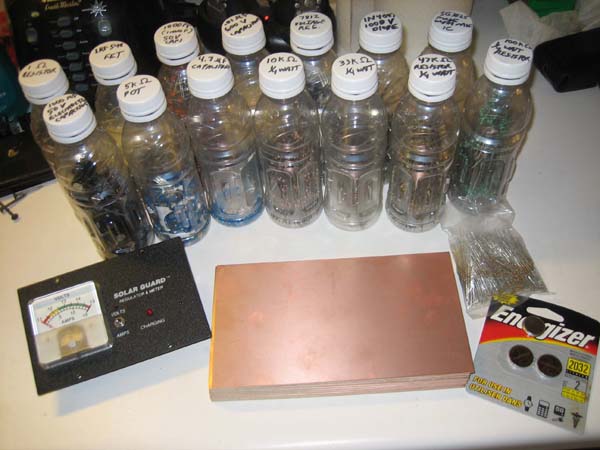 I gathered an assortment of supplies, most of the electronic components were for making florescent light inverters. I didn't know what to expect, so I packed the electronics in plastic bottles to protect them from the environment as much as possible.
Figuring out what to pack was a bit difficult as the weight limits for air travel are rather restrictive, and confusing. The domestic part of my flight allowed for two checked bags up to a certain weight as well as a carry on bag, and the international part allowed for one checked bag of a slightly higher weight and a carry on bag of up to 15lbs. As a result I packed two bags, one of which could be stuffed inside the other if need be and make the international flights weight limit. I stripped out the non essential items, I figured I could always buy clothes and such there. I also packed anything small and valuable into the carry on luggage so as to not get burned like I did last year in Spain. I need not have bothered trying to juggle the weight between the bags, as once checked in Chicago I didn't see my bags again until Australia.
The first leg of my flight was from Chicago to Los Angeles. There was a lot of scenery along the way. I passed over lots of interesting scenery. That flight took about three and a half hours.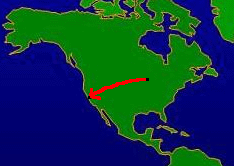 The route.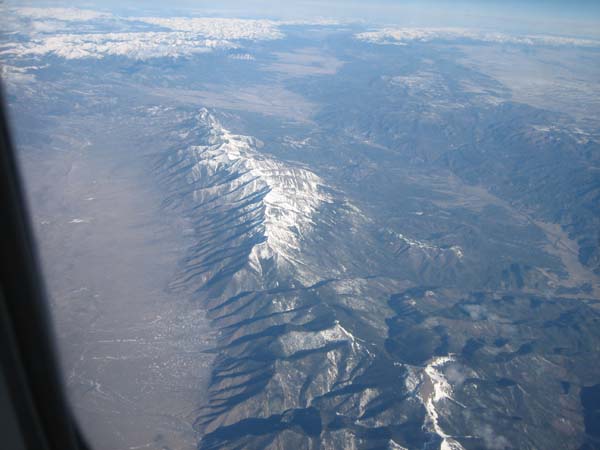 The Rockie Mountains. Somewhere way up there on the horizon is OtherPower's HeadQuarters.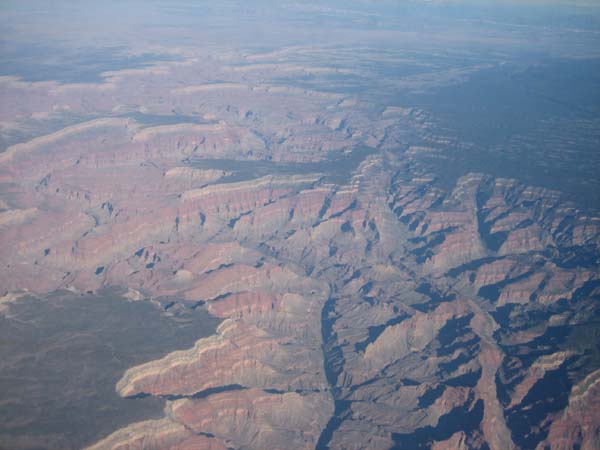 Then there was this Grand Canyon along the way.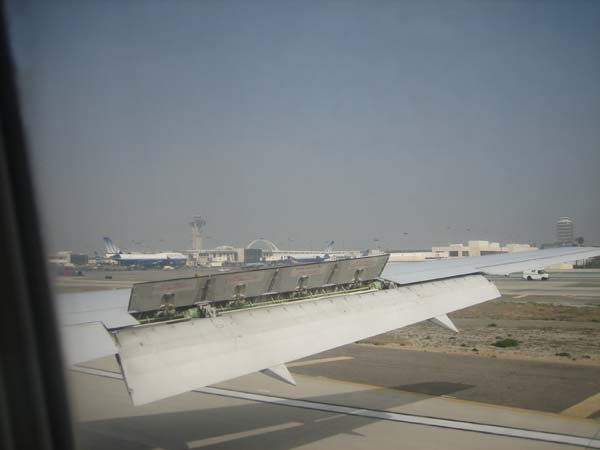 Touchdown at LAX.
In Los Angeles I switched planes. The flight over the Pacific was largely in the dark. The flight from Los Angeles to Sydney took fourteen and a half hours. I caught up on lots of newly released movies and talked to other passengers to pass the time.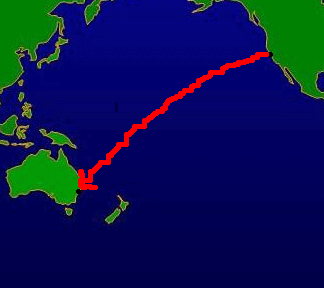 Once I arrived in Sydney, I was met by Amanda Wynne, Commanda from Otherpower. This was a day earlier than I had originally told her, I thought I had calculated the arrival correctly, but well, I should have double checked. Amanda showed me around the sites of Sydney. Sydney reminded me a lot of back home. Some things were different, but culturally, Australia seemed more similar to the United States than the European Countries I had visited in the past.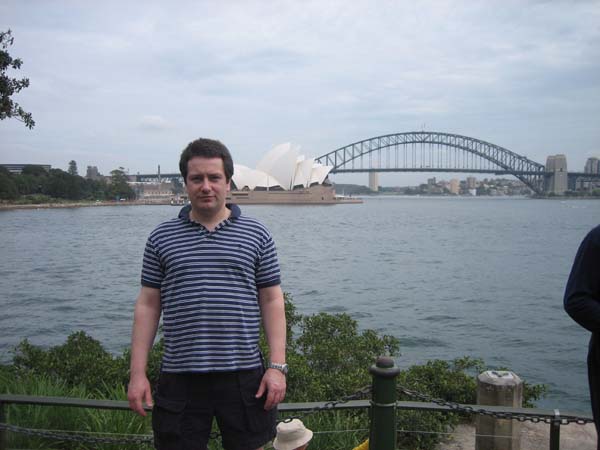 The obligatory Opera House and Harbor Bridge shot.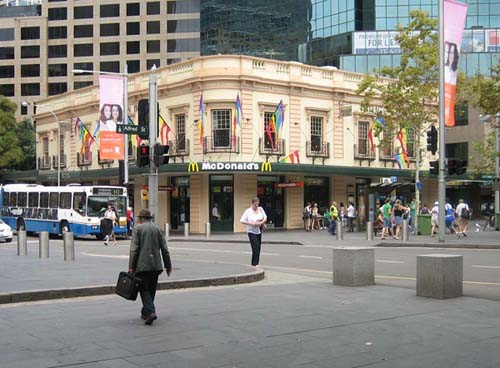 Not only did they have the same chain stores and such as back in Chicago, but even many of the items in the stores were identical.
While in Sydney, Amanda had picked up some compact fluorescent lights for the mission to Fiji. We went by her place of work to assemble them. First of all, Amanda is amazing. If I owned the company where she worked I would be thankful every day that she walked in the door. Computer systems, electronics, and lab testing.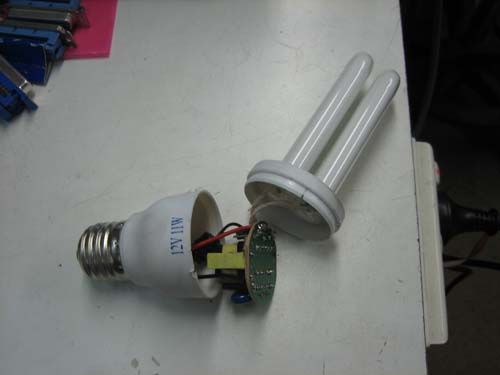 Some 12V compact fluorescent light kits we assembled at Amanda's shop.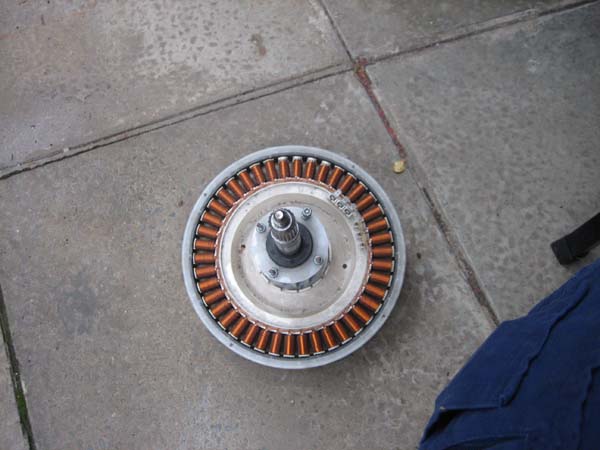 I got a look at a Fisher Paykel motor Amanda had. This motor was telling me: "make me into a wind turbine"
I met Ben in Sydney at the airport the day before we left. He Amanda and I went into town to have lunch, and discuss the trip. Ben and I stayed at a hotel near the Airport and flew out the next morning. The flight to Fiji was uneventful. We had to pass through Customs and Revenue when we arrived. I was a little bit upset at having to pay $213 Fiji Dollars in import duties on stuff I was donating to a school, but that is the way it is there.
We had a few days to make our way around the island from Nadi to Suva, from where we would fly out to Vanua Balavu the following Sunday. We stayed at Nadi a couple of days to pick up some supplies, and relax. Fiji was much different from back home. The economic situation was worse and it showed. Although it was my first time there, Ben and others told me that there were many fewer tourists than in the past. This is probably largely due to the military coup there on 5 December 2006. There were some military check points on main roads, but I think they went to a bit of trouble not to have weapons visible. I didn't get any good photos of those, although everyone we encountered was friendly, I didn't think it was wise to possibly antagonize them by taking their pictures.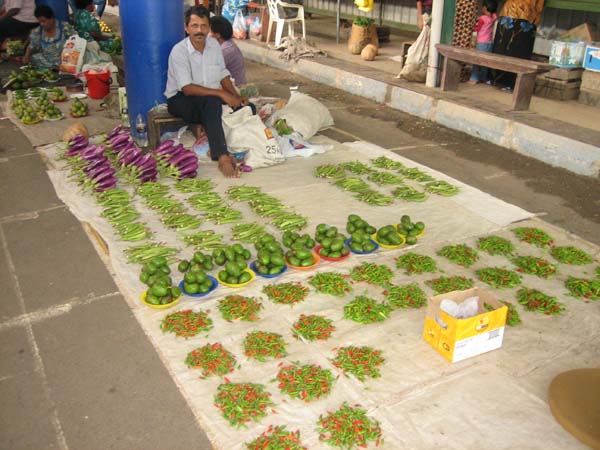 A man selling produce at the Nadi Market. I think Bruce S, whose company donated the laptops, would have been in heaven with all of the hot chili peppers there.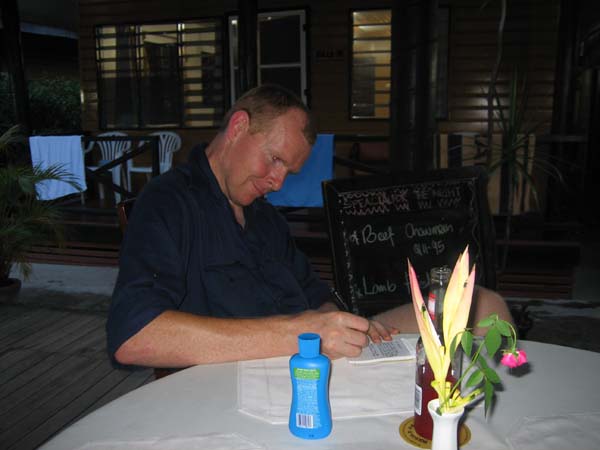 Ben avidly writing in his diary at the resort in Nadi. I wonder what he is writing about me?
From Nadi, we stopped at the Beach House at Coral Levu. It is a touristy resort, where apparently they had recently filmed a British reality TV show. The elements of the studio setup were still visible. I went out to the Coral Reef to explore a bit. It was a bit rainy as apparently a tropical storm was skimming by.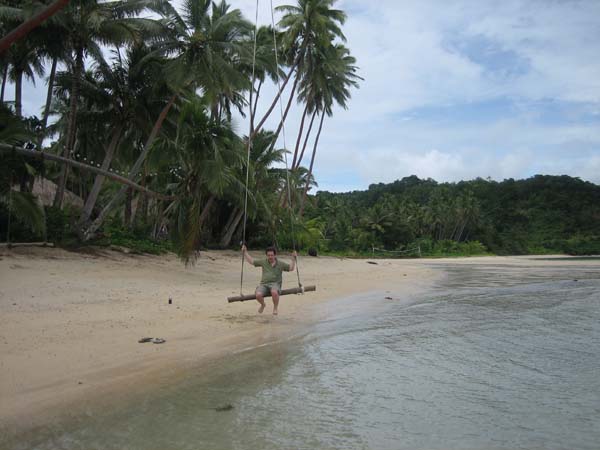 A swing on the beach at the Beach House, Coral Levu
The next stop was Suva. In Suva we checked out the local market and some of the sights of town. We also visited the history museum there, and I visited a couple of familiar restaurants. I was surprised to see a store full of counterfeit movie DVD's so open and notorious, but things were different there.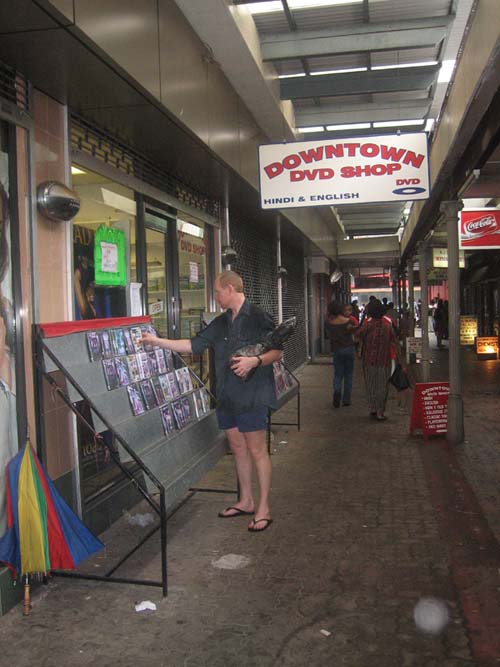 You can get counterfeit DVD's of all the latest Hollywood and Bollywood movies for $3 to $5 Fiji Dollars a piece. Completely open and notorious.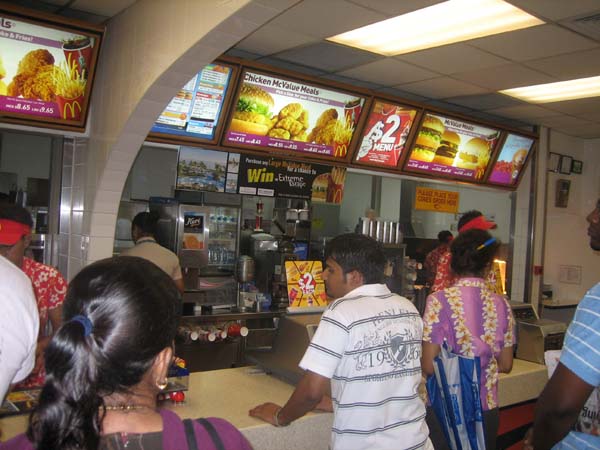 Suva McDonalds. When accounting for the currency conversion, similar items were cheaper than back home.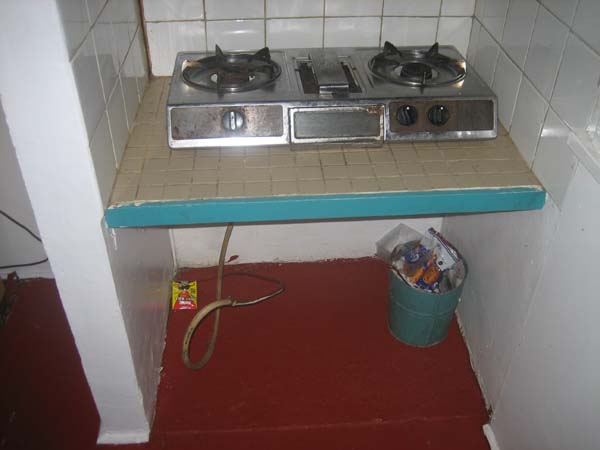 A sure sign that you are in a high end hotel is a box of rat poison on the floor. To be fair I didn't see any rats, and the staff was friendly and the room was cheap. There was a gecko in this room, but once I learned that they ate mosquitoes, I became rather fond of them.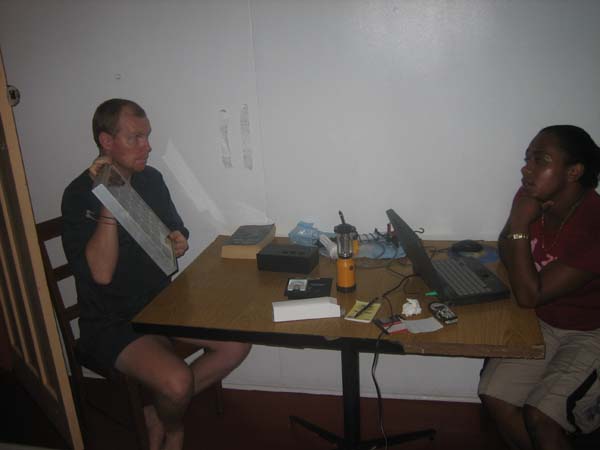 This Lady from a smaller village was interested in solar power for lighting and computers for her village. Ben explained how the system worked.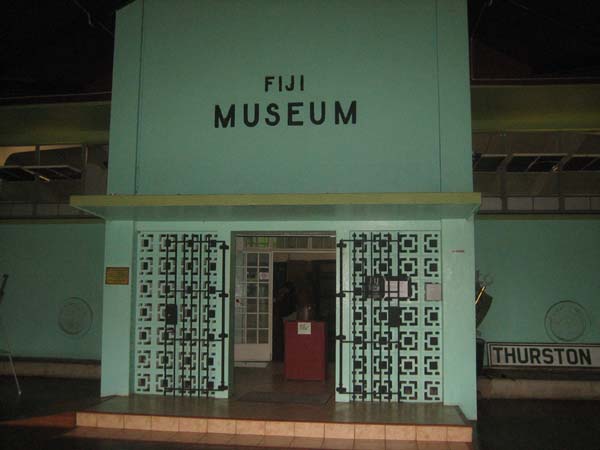 The Fiji Museum has artifacts, and tells the story of the history of civilization in Fiji. There are giant dug out Canoes, War clubs and many other items as well as a gift shop. You can't take pictures inside, so all you have here is a picture of the entrance. It is located in their Botanical Gardens, which was literally flooded from all of the recent rain when we visited.
We were supposed to fly out on Sunday to Vanua Balavu, but the flight was delayed because it had been rainy. The landing strip on the island is a grass strip, and if it is too wet, the planes cannot safely land. Although we had checked in with the airline on a daily basis, they pulled a fast one on us and flew the flight to the island early Tuesday morning after assuring us that it would not go that day. Since they only make the flight once a week, this posed a real threat to our mission. A steaming Ben and I arrived at the airport to vent our frustration on the airline there. Fortunately we met up with a fellow named Tim. he is a pilot for actor Mel Gibson, who happens to own an island in the Lau Group near to Vanua Balavu. It turned out that he was flying out there that day with some personnel and equipment, and offered us a ride so that we could complete the charity mission. He also refused any compensation offered by us for the ride. Mel's plane was a newer Cessna and the flight was smooth. So thank's to Tim and Mel, we made it to Vanua Balavu.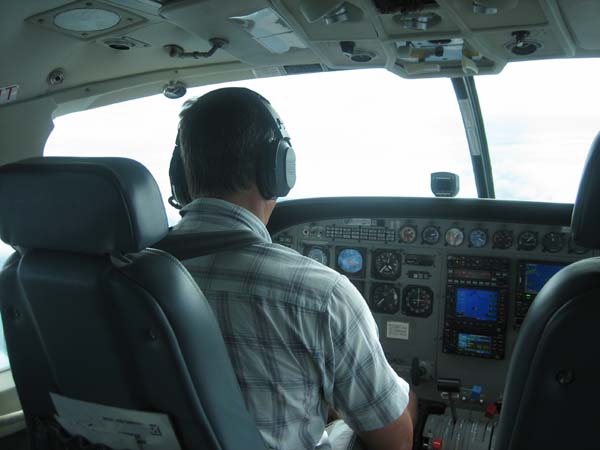 Tim and the Cessna.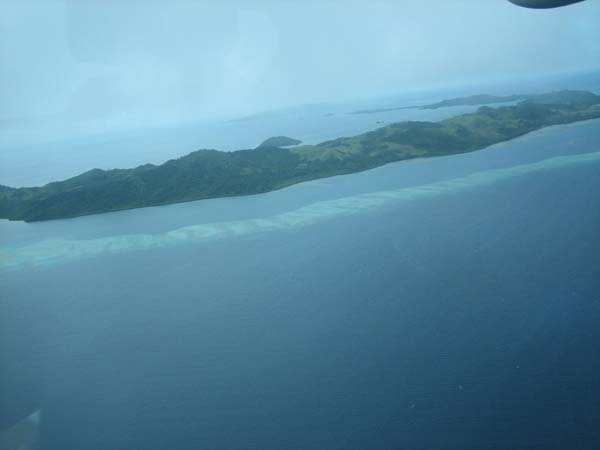 My first look at Vanua Balavu. From the air you can see the protective reefs that form a barrier around the island.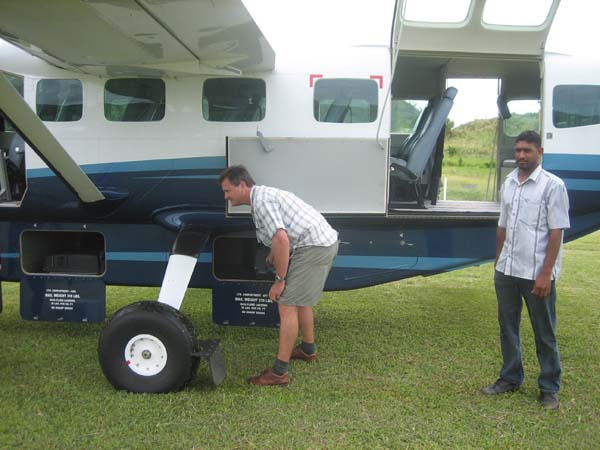 Another picture of Tim with Mel Gibson's Cessna. Thanks for the ride out there.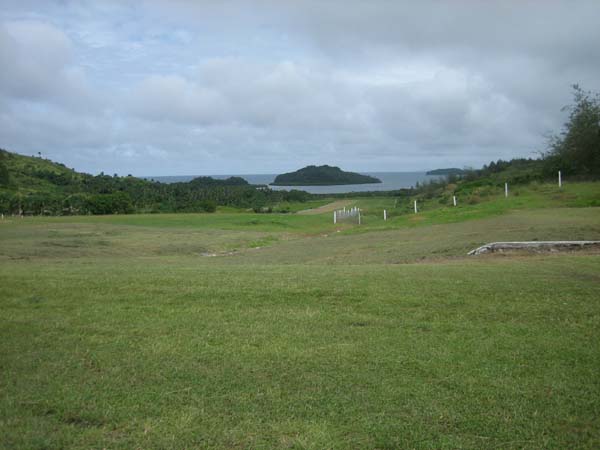 The runway at Vanua Balavu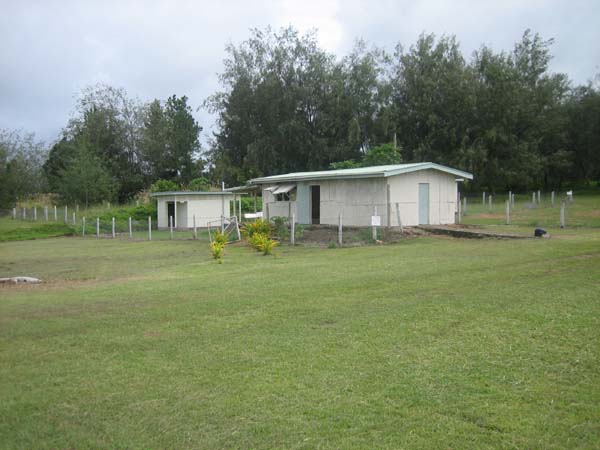 The Airport Terminal and bathrooms at Vanua Balavu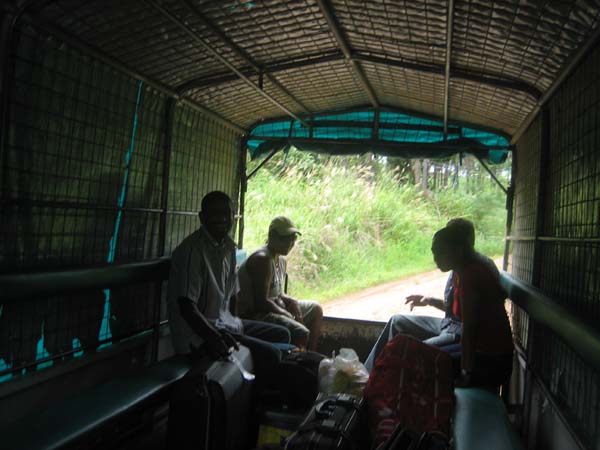 We hired a ride on a truck with some other folks who flew in with us. The truck took us on a scenic ride across the island to the location where we were staying.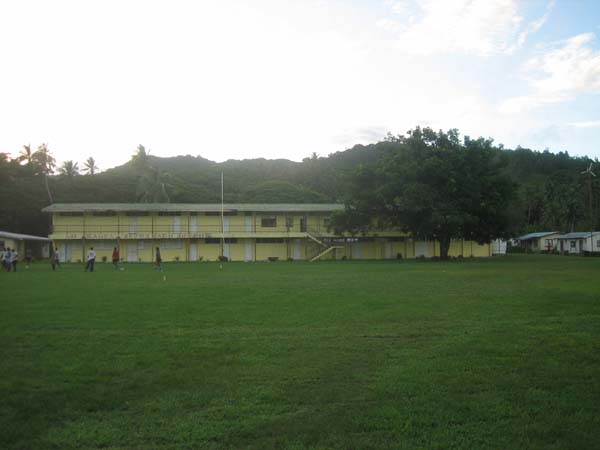 My first look at the Adi Maopa School.