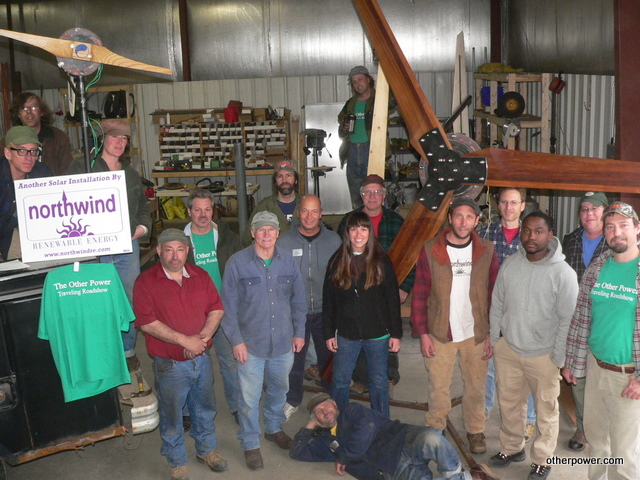 There's no better way to learn about wind power and off-grid power systems than with dirty hands, and our series of hands-on workshops around the USA continues for 2012! HERE, and get information about our upcoming workshops HERE.
---
UPCOMING RENEWABLE ENERGY SEMINARS
---
Thank you for dropping by!
We are a group of alternative energy enthusiasts who want to spread the message that It's EASY to make your own power FROM SCRATCH. Otherpower.com's headquarters is located in a remote part of the Northern Colorado mountains, 12 miles past the nearest power pole or phone line. All of our houses and shops run on only solar, wind, water and generator power...not because we are trying to make some sort of political or environmental statement, but because these are the only options available. And we refuse to move to town.
We could never have made it to our current level of electrification up here without the help of friends, neighbors--and folks we've never met, thanks to the internet. Our goal is to share our information about experimental successes and failures alike, free of charge, with anyone who is interested. We also offer a wide selection of books and hard-to-find alternative energy parts and components on our Online Store. We hope you find our pages informative, useful and enjoyable!

For all questions about orders, inventory, tracking, shipping, etc. please E-Mail our Shipping Office
.
Our mailing address is: Otherpower
PO Box 292
Masonville, CO 80541
If you need to contact us by phone, please go HERE.
If you have homebrew renewable energy questions, you can send us an E-mail HERE. However, PLEASE be aware that we receive many more Email requests for free information and advice than we can possibly respond to and still run our business...they come in twice as fast as we can possibly reply. For quicker advice and opinions alternative energy questions from experimenters worldwide, try posting your question to the Otherpower Discussion Board. THANKS for being considerate!


SAFETY NOTE: Some of the experiments described on our pages may present various hazards. Please be cautious. We are not responsible for injury resulting from neglecting safety precautions when performing experiments.


©2010 by OTHERPOWER
Contact Us HERE

This page last updated 1-2-2012