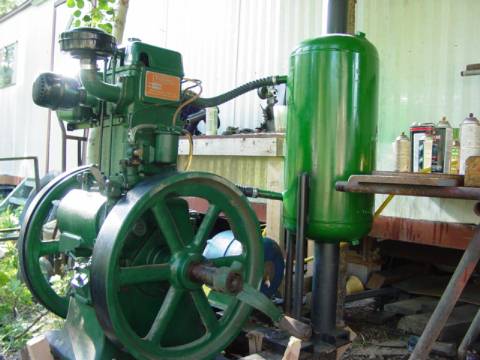 DanB's brand new FuKing Lister CS diesel engine clone from India, hooked to a Winco 5kw Ac generator head.
This engine can really be called a 'new antique.' Lister of England made these from 1930 to 1987, and many companies in India build inexpensive clones. They are running irrigation systems and light plants all over India. DanB got his from George at Utterpower.com, a heckuva nice guy who is an expert on these engines, and imports them into the USA. The quality varies by manufacturer, and George's website has tons of information about which makers have the best engine. The price is very cheap compared to any other diesel engine available, and it runs at only 650 RPM. It's incredibly quiet, and takes it's fuel in tiny sips....very economical, and it may last forever. It would run just fine on pure biodiesel. You should enjoy tinkering with engines if you want to go this route -- you'll need to fabricate an engine mount and a cooling system for it. DanB used an old Winco 5kw generator head for it, and George sells some really nice generator heads for it too.
Check out DanB's page about his Lister clone HERE. It's really cool, and DanF loves it too since he lives next door and can't even hear it when it's running.