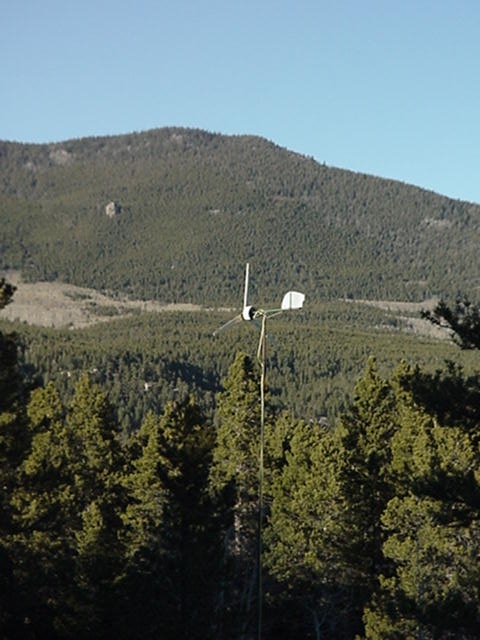 Yeee-HAH!!!! This may be a world record in fast recoveries...this mill smashed to the ground during erection less than 24 hours earlier, destroying the rotor and base hinge, and damaging the pole. After a 6-hour late-night rotor-building seminar and a bit of welding, it lives again. Of course, the erection of this wind generator immediately caused a complete, still, dead calm. And we worked all morning preparing it, freezing our ***es off in 40 mph winds! Launching a new wind generator seems to cause an abrupt stoppage of wind, no matter what the weather forecast says.
See the whole sorry fiasco of the smashed windmill HERE!
A new series of pages is in progress detailing every aspect of the design and construction of this new machine. Watch the Otherpower message board for details! We got 60 amps at 40 mph in tests...and a good 20 amps at 25 mph. The alternator is based on a Volvo disc brake, it has 18 homemade coils of #16 AWG magnet wire and 18 Neo magnets. The machine is on a 35 ft steel pipe mast, with an 8-ft. dia. 3-blade rotor.
MORE SOON!