Homebrew Wind Indiana 2011
Two weeks ago we (George, Scotty, DanF and myself) taught an ambitious workshop in Brownstown Indiana. The goal was to build a 12 foot diameter wind turbine and a 93 foot tower and get the system up and running. Just 1 day before we left Roy from WindSine in New York decided to come and help with it. We also had Cris Folk (instructor of renewable energy in Madison WI and Custer for the MREA) for 3 days. Quite an excellent group.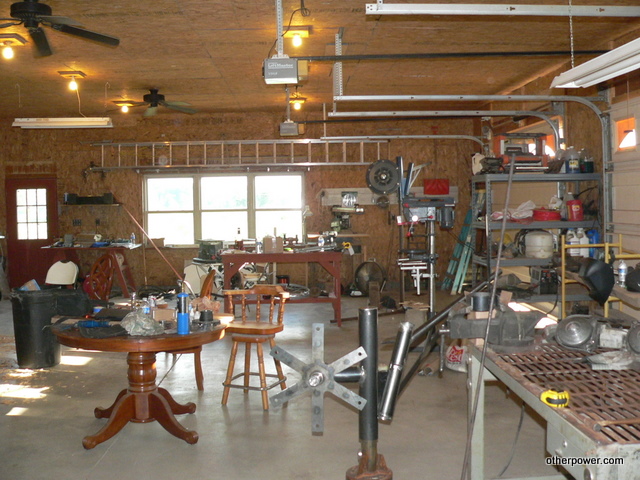 I didn't get my camera working for the first 3 days so early pictures in the workshop don't exist here. Pictured above is the metal work finished up for the turbine. George S (the property owner) provided us a really nice shop to work in - lots of workbench space, nice steel table for welding and all the tools we needed.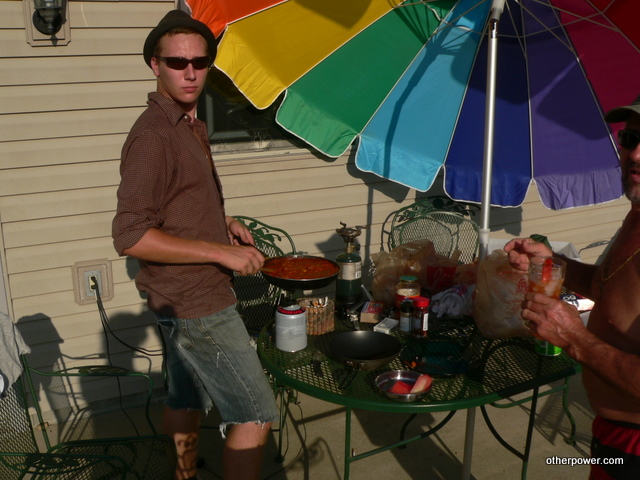 Kevin, from Ontario cooked super gourmet meals every night.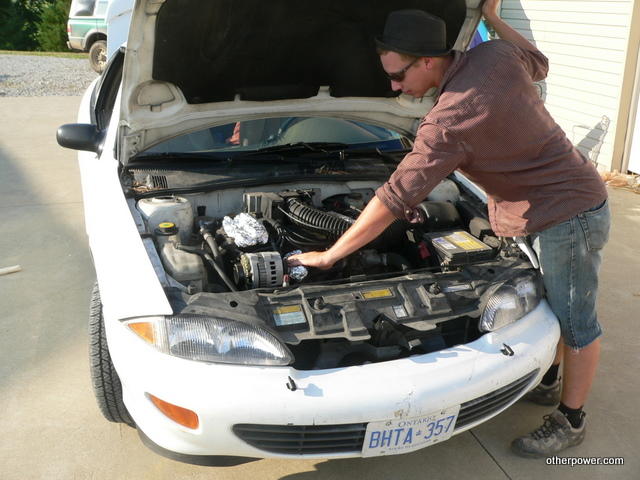 They had a coleman 1 burner gas stove, a 1 burner electric hot plate - the baking and warming of other foods was done on their engine block.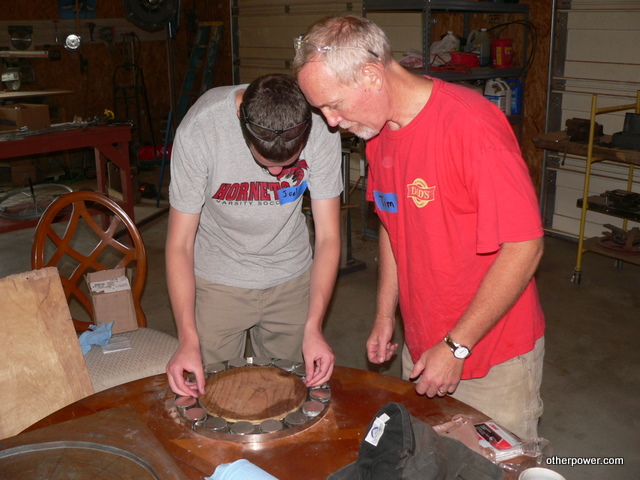 Tim and Joel preparing a magnet rotor for casting.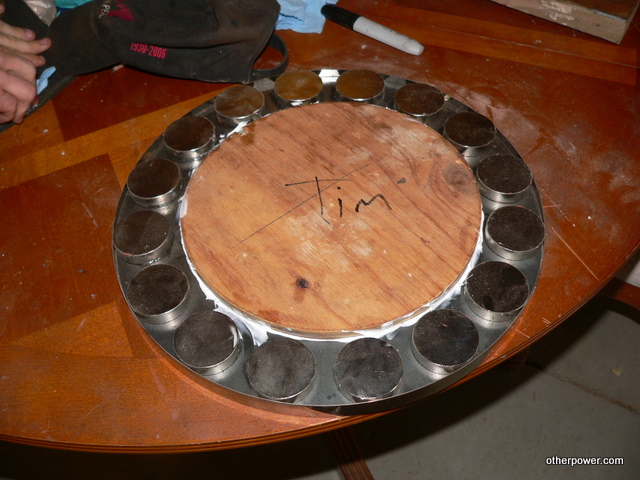 Now days, at workshops - whoever caulks the island and prepares the rotor for casting has to sign it, so we know who to blame if/when it leaks out the bottom ;)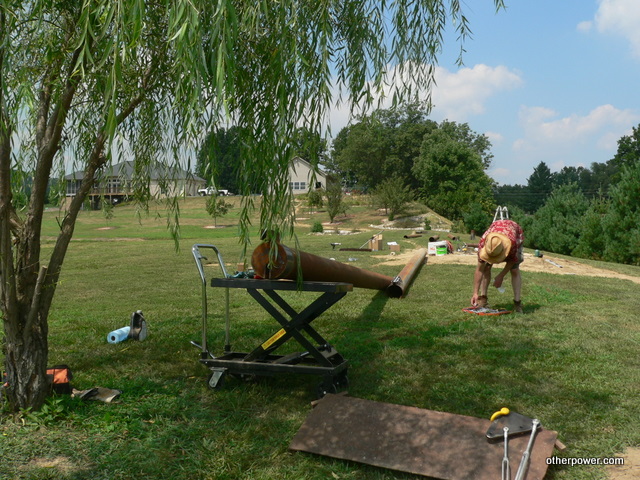 On Thursday afternoon we finished the turbine and got into building the tower. Most folks were camping here... we worked till dark outside almost every night, and folks worked on blades till after midnight, every night.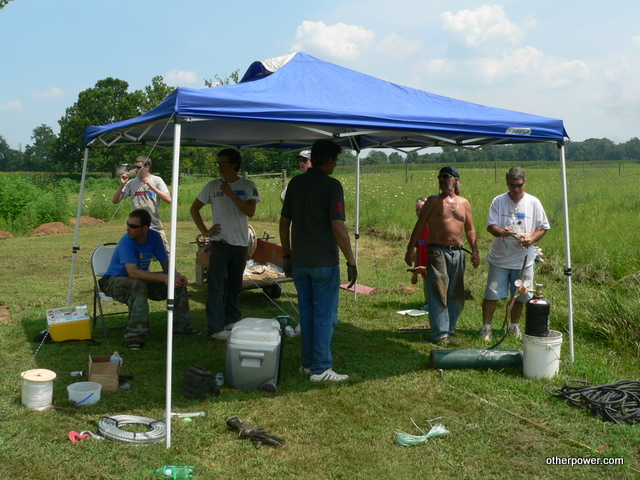 It was well over 90 deg every day - made some of the tower work tough, but it was nice to have this canopy with coolers full of ice cold water.
11 PM and the blade carving won't stop for 3 more hours! During this workshop 17 blades got manufactured, ranging from 2 foot diameter to 12 foot in diameter. 3 more blades (so that makes it 20) got half carved.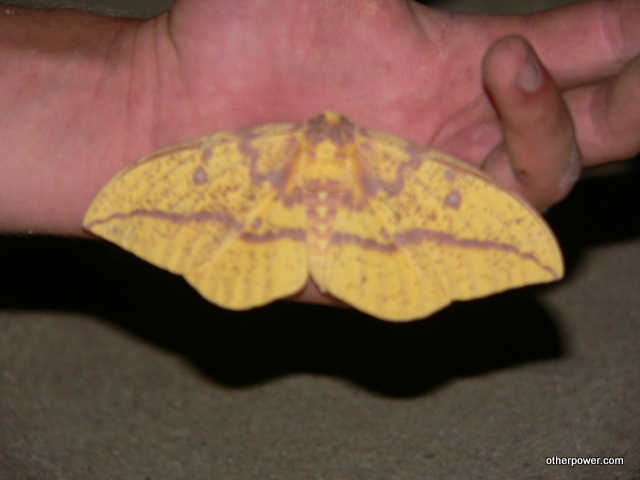 This huge moth came in for a visit around midnight during one nights blade carving session. Wingspan perhaps about 5 inches.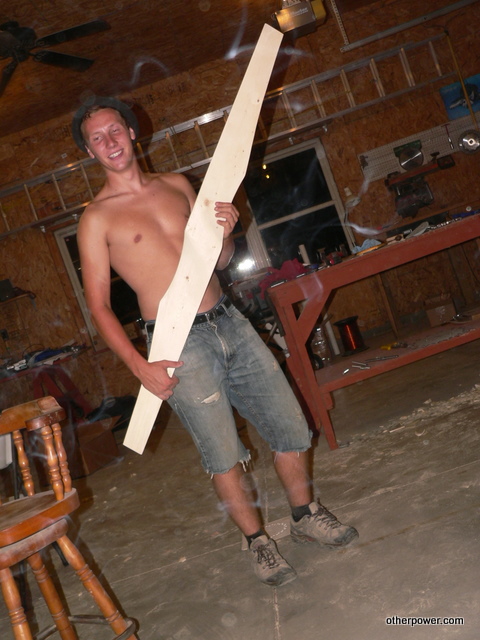 Kevin carved several blades, this is a real sweet 2 blader he layed out and carved.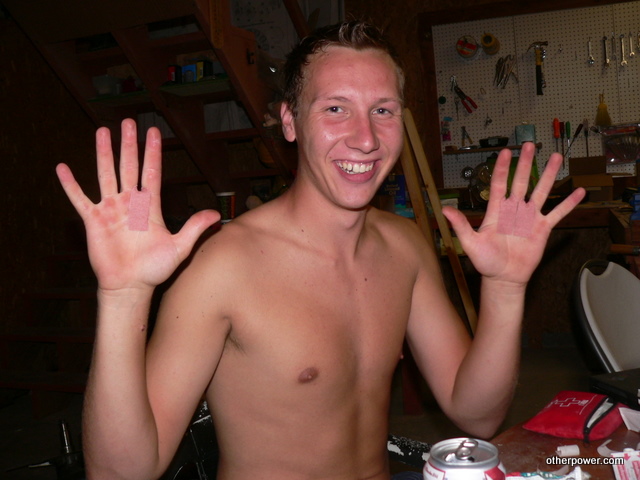 He got his share of blisters to show for it.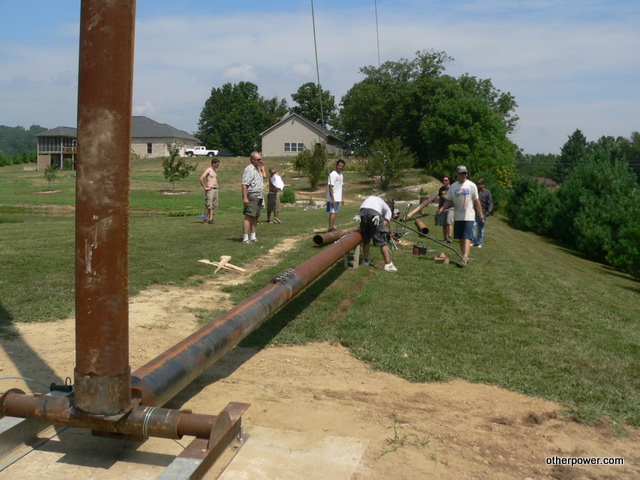 The tower is built from 8 inch diameter 12 gauge tubing. Pictured above we have the gin pole up (it's 40' long) and we're assembling the first 50' of tower. Then we raise the first 50', approximately adjust it =- then lower it, and raise the rest later. This one got tricky for me though. Normally I do not use equalizer plates so I can get the lower section of the tower perfectly plumb and straight. This time we gave equalizer plates a try and it made things tricky for me. I've learned some from this project and thought a fair bit about the use of equalizer plates. It's my current thinking that they make some sense - nice to have all the cables of equal tension I suppose, however - it seems to me that on a wind turbine tower they allow the tower to bend when there's a big thrust load at the top. They're also a PITA to adjust. Not sure I'll go to the trouble with those again.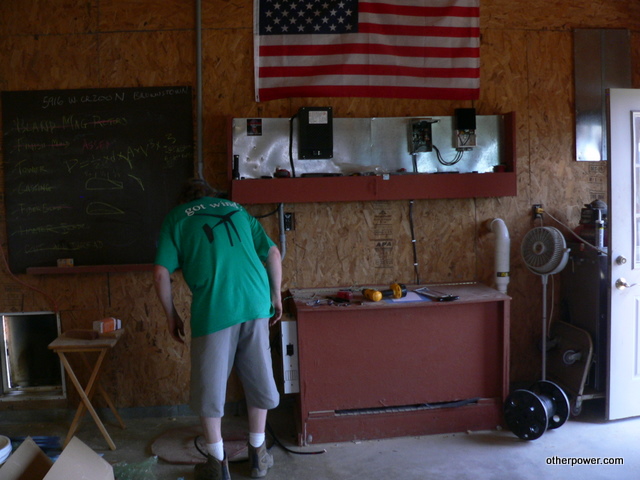 While we worked on the tower DanF wired up the balance of the system. It's a nice basic 48V system, w/8 Trojan L16's, an Outback inverter, a Morningstar TS60 for diversion and a 2kW air heater. DanF also installed a Midnight solar breaker box with a 175 amp breaker for disconnect.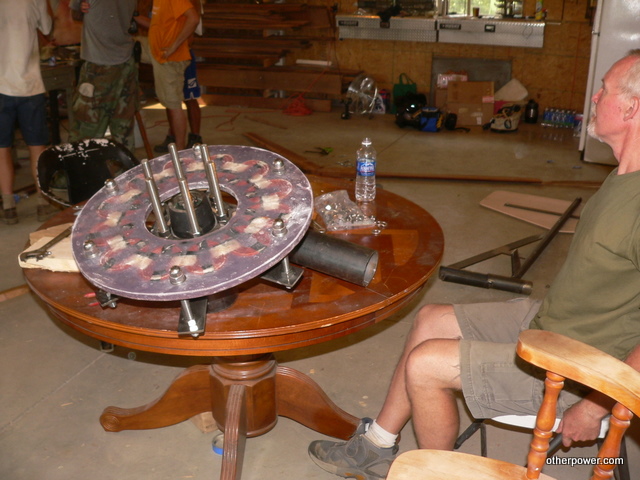 The machine we installed was not the one we built (it was about identical though). The machine we built (pictured above, coming together) has a stator designed for 100V cutin at 125 rpm - it's to be grid tied, without batteries through an Aurora inverter, in Wisconsin.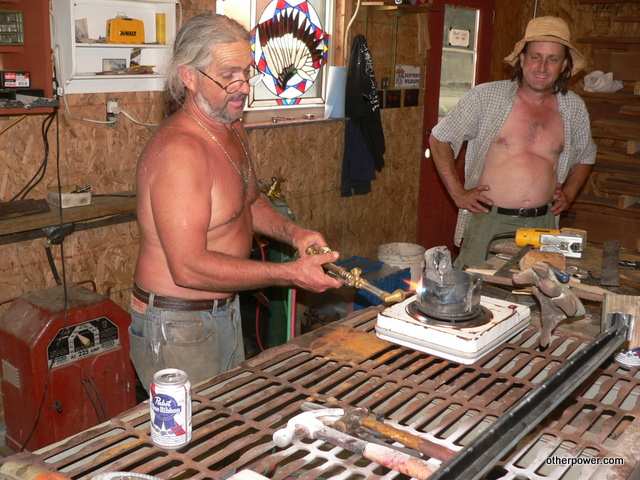 Pictured above George (wearing all his PPE - personal protective equipment) and Scotty melting lead for blade weights.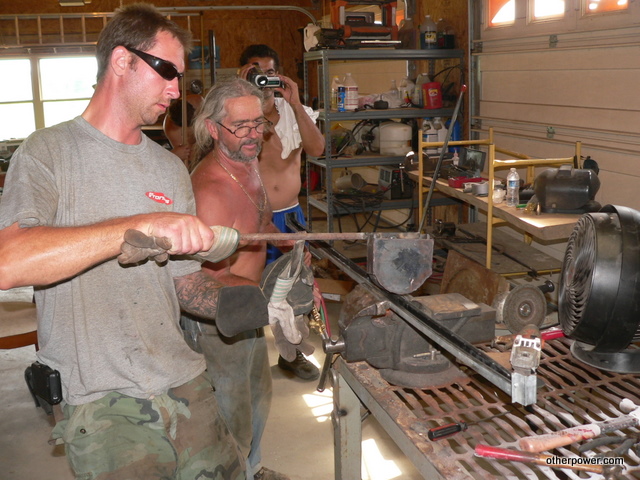 Roy is pouring molten lead into a a piece of steel channel which serves as the mold for blade weights.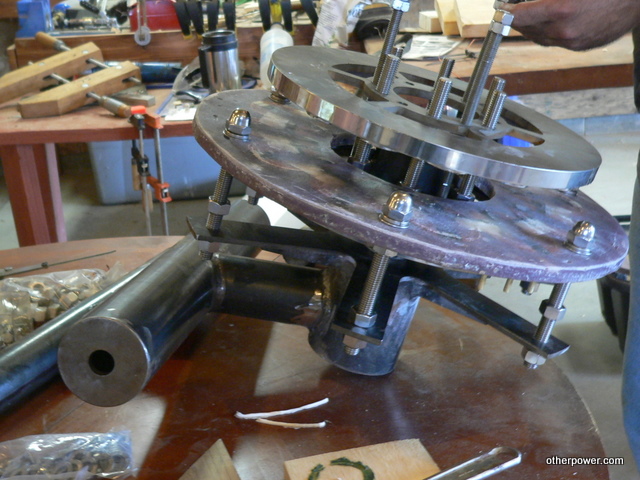 The alternator coming together!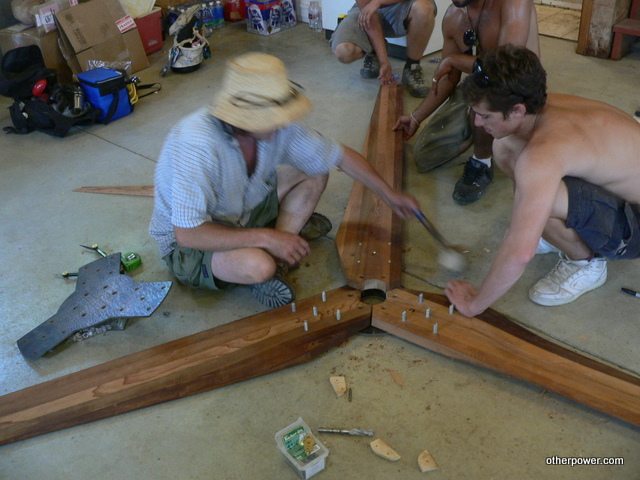 The blades coming together right along with the alternator on Thursday afternoon.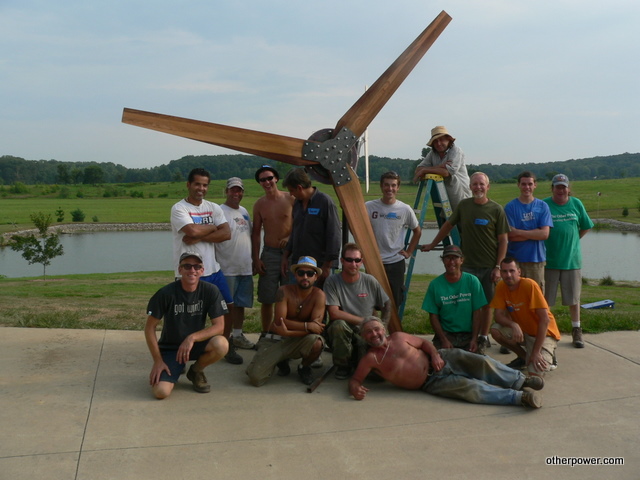 Great group we had! Cris Folk was taking the machine so we had to do this Friday evening - we still had one more day to get the tower together. After we took this picture we worked right up against dark to move the tower forward.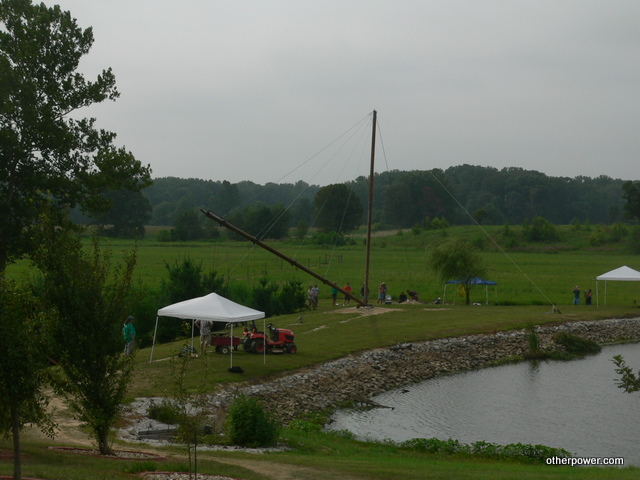 Up it goes, without the turbine on it yet. This tower was a bit tricky - narrow guy radius for one thing (40 feet which isn't much for a 93 foot tower) and the anchor on the east side was 4 feet below the pivot. I put in one extra 'temporary' sort of anchor about 4 feet behind the pivot to help hold it straight going up and down. It all worked out fine really - it works very nicely. The narrow guy radius was required based on property boundaries and features (pond).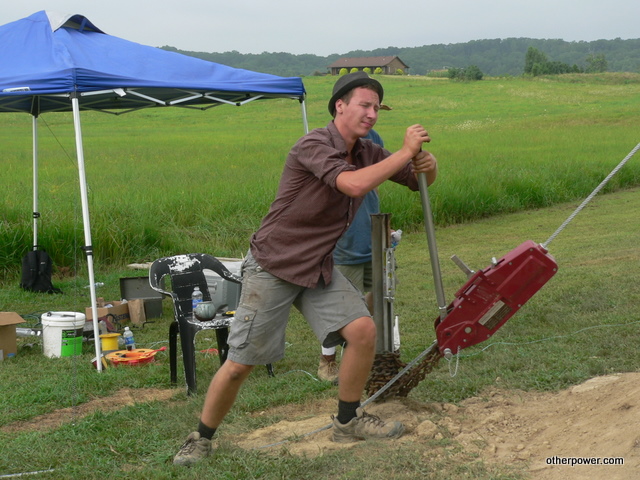 We used a grip hoist to raise it - works fine. This grip hoist is made in china, rated for something like 4500 pounds I think. It pulls 5/8 inch cable and I believe it cost right around $300 from Northern tool. It takes about 20 min of fairly hard work to get this tower up with this tool.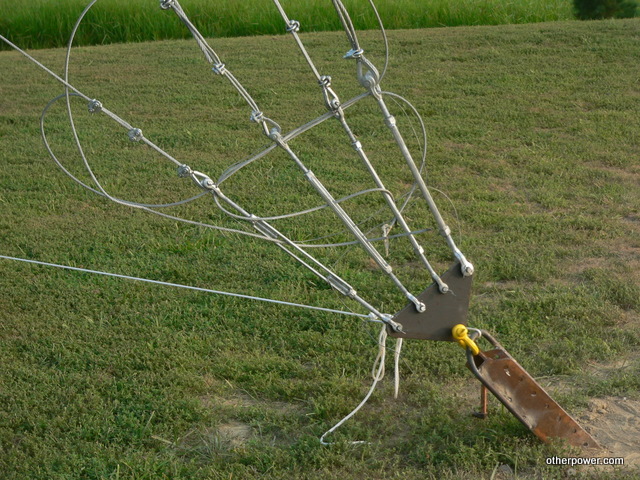 Pictured above is one of the anchors with the equalizing plates we made.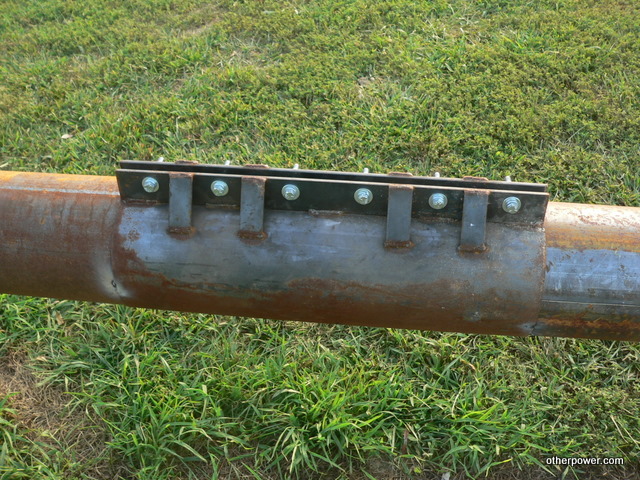 This is one of the couplers for the tubing that we made. This is on the gin pole, the ones on the tower had spots to attach guy wires.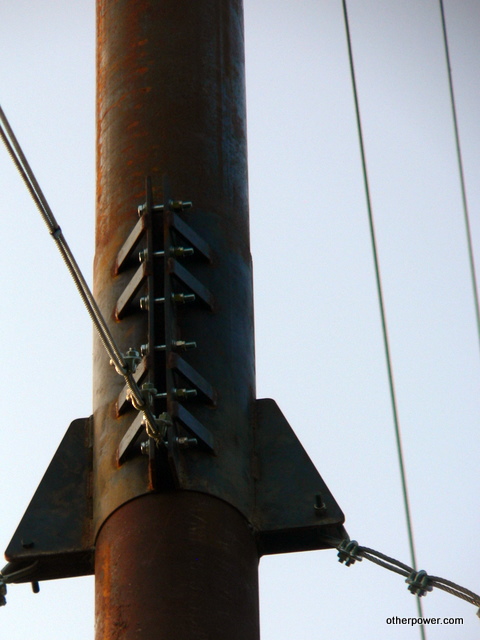 Coupler on the tower.
We always seem to do pretty well with timing. Technically, workshop hours were from 8:30 AM till 5PM. This is 4:30 PM on the last day - tower going up, we had winds between 10-15mph (perfect because there was not a touch of wind all week!)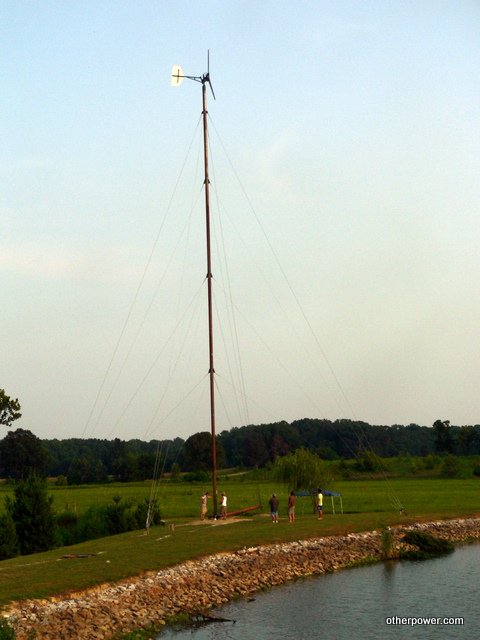 In the end it worked out fine. We threw the switch at about 4:45 PM - we were seeing steady power between about 150 - 600 Watts. Another fun workshop with a great group of people. Not pictured or mentioned above.... the fun barbecue with guns and tennis ball cannons and luckyy snapping turtles... bag bombs with oxy acetylene... 330 PBR's and 22 cases of bottled water, George's camobooty boxer shorts [url=http://camobooty.com/]http://camobooty.com/[/url] and some other stuff that... well, let's just say that some of the stuff that happened at the workshop in brownstown IN will just stay in Brownstown IN. (camobooty is owned/founded by some neighbors of ours down the road that lost everything is the crystal fire last april) I think we'll do this again in October, here - and install a similar machine on a similar tower at a neighbors house down the canyon. Big thanks to all the students who all put in at least 110%, 'guest instructors' Chris Folk and Roy Rokobitsch, and home owner/host George who gave us perfect accommodations and made about 100 trips to town to pick up bits of steel, hardware, tools etc.
For me, it's quite challenging and fun to go somewhere you've never been, with a group of folks you've never met and a pile of raw materials - and put together something like this in 6 days while at the same time trying to explain 'how' and 'why'. So much fun....